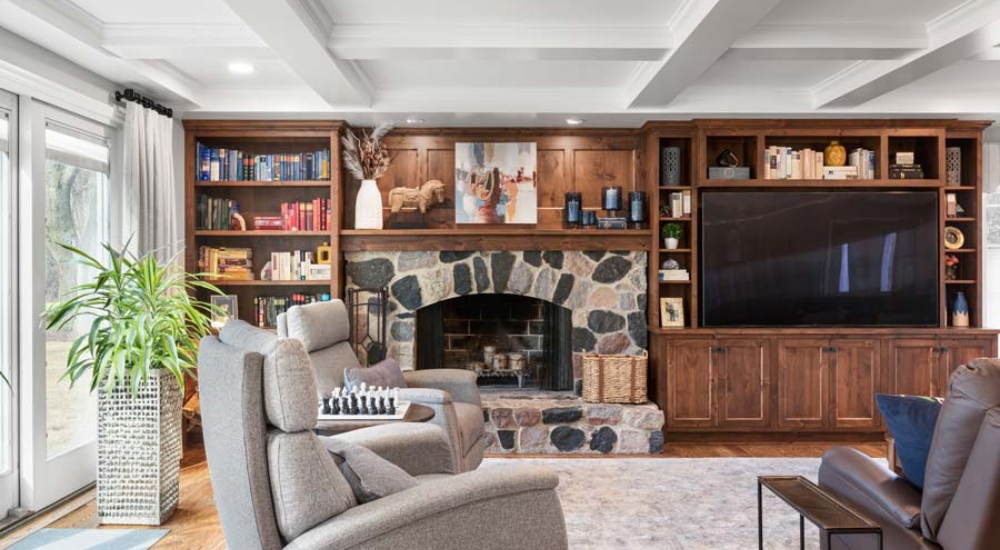 Whole Home Remodeling Costs in Wisconsin
You've outgrown your home but can't bear the thought of moving away from your neighborhood or the frustration of buying a new house that likely won't meet your needs in the end. Remodeling your entire home is the best way to get everything you need and want, add more space, and completely update your home's design, functionality and style. But what does it cost?
How Much Does a Whole Home Remodel in Wisconsin Cost?
On average, a whole home remodel starts around $300,000-$400,000 in Southeastern Wisconsin. However, no two home remodels are exactly the same, so we'll work with you to design a plan that solves your home's challenges and meets your preferred investment amount. In the following paragraphs, we will break down some of the project types that could be included in your whole home remodel and how much each one can cost on its own.
An Important Note About Costs
As we break down individual remodeling costs, there are two things to keep in mind. First, you will benefit from remodeling several spaces at once, rather than one room at a time over several years. By remodeling multiple areas at once, you will effectively save on costs by comparison. Second, these costs are starting points and averages and may not reflect your custom project. The age of your home, the grade of the finishes you choose, the size of the spaces, and the complexity of the project will all factor into your tailored remodeling plan and final costs.
Whether you're looking to add square footage to your home, finish the basement and attic, or update every finish and feature throughout your home, here are some of the costs that could be included in your whole home remodel.
Kitchen Remodel
Since the kitchen is usually one of the most utilized rooms for families, we will ask you many questions when we meet to help identify your lifestyle needs and desired investment amount.
Kitchen remodels can include anything from removing walls to create an open floor plan, to expanding your kitchen to add square footage, or to removing and replacing every finish and feature. You can expect a kitchen remodel in Wisconsin to start, on average, between $100,000-$200,000.
What is your kitchen lacking? Could it be a functional layout, enough usable storage, or updated finishes and appliances? Perhaps there simply isn't enough room and your kitchen will need to be expanded to add a walk-in pantry, a mudroom, and increased storage. The intensity of the remodel will be a big determiner of your cost in this complex room.
The grade of finishes will also be a large factor in your cost, especially for the kitchen. High-end materials like fine marble, custom tile, high-grade ceramic tile flooring, and commercial-grade appliances will push your kitchen remodel cost to the high end of the average range or beyond it. However, the kitchen is a very important room in the home and should reflect your design style so that you'll find more joy and appreciation for this hard-working space. In order to stay within a reasonable budget and shape the space to the way you live, we work closely with you to guide you towards the best solution for your home and lifestyle.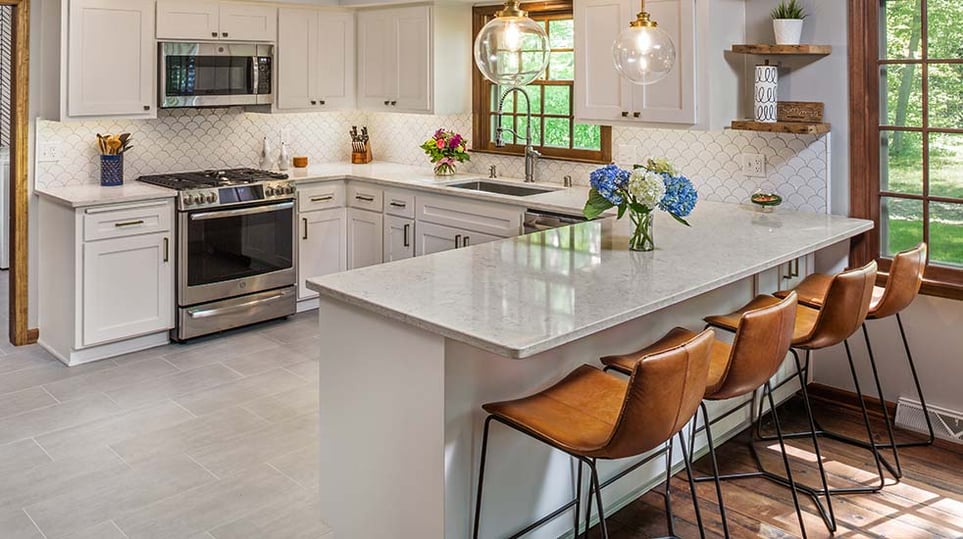 Bathrooms
Bathrooms come in many different sizes: half, full, primary, and Jack and Jill bathrooms. From the smallest to the largest, their sizes can vary between tens and hundreds of square feet. Due to this variance, bathroom remodel costs generally start at $60,000 but can range above or below this.
If your home is lacking enough bathrooms for everyone to live comfortably, adding a full bathroom could start around $80,000. As with any remodel and addition, consider your personal style, the durability of the materials you choose for this space, and the level of comfort you'd like to achieve.
In a primary bathroom, for example, consider how it should provide rejuvenation and relaxation. A steam shower, freestanding tub, and smart features make for the most ideal way to begin and end your day. If the children's full hallway bathroom is in need of a remodel, go for finishes that are durable and easy to clean, in addition to including lots of storage.
Basement Finish & Remodel
If your family does not use this part of your home frequently, your basement is essentially an opportunity to create more livable space for everyone to use. The best thing about remodeling your basement is that many consider it a bonus space with excellent potential for housing guests, creating a gathering area for sleepovers, game nights, and even a billiards room.
A basement remodel will generally start around $75,000, but will, of course, come down to your design goals, the size of the space, the finishes you choose, and the features you'd like to include.
Second or Third Story Addition
Perhaps your family has added a couple of new members since you've purchased your home. Or, having your home office and gym on the main floor has become unmanageable. Adding a second – or third – story to your Wisconsin home would start around $250,000 and will give you and your family an incredible amount of added space. Add a bedroom, a full bathroom, a recreation room just for the kids, and more by adding another level to your home.
Attic Finish & Remodel
An attic, like the basement, is square footage you could be using more effectively if properly finished. The plumbing, electrical, and HVAC systems will need to be extended into these levels. The attic will also require insulation, drywall, and anything else that finishes the space and makes it more comfortable to live in. The attic is great for a smaller bedroom suite for older children, a private home office, or a yoga studio. Finishing your attic to add square footage to your home usually starts around $150,000.
Exterior Remodels & Additions
Looking to refresh the look of your home and make it appear more welcoming? Updating your home's exterior can be a daunting endeavor, but we can guide you through the process. There are many components that can go into a total exterior remodel or addition: updating your siding, replacing your windows with energy efficient models, expanding your entryway, adding a welcoming front porch, replacing your roof, along with other projects. We guide you through the selection process to help you get a timeless look for your home.
Update your siding, replace your windows with energy efficient models, expand your entryway, add a welcoming front porch, and replace your roof for a complete exterior refresh. To give your home the curb appeal that you desire, costs could start at $115,000-$150,000.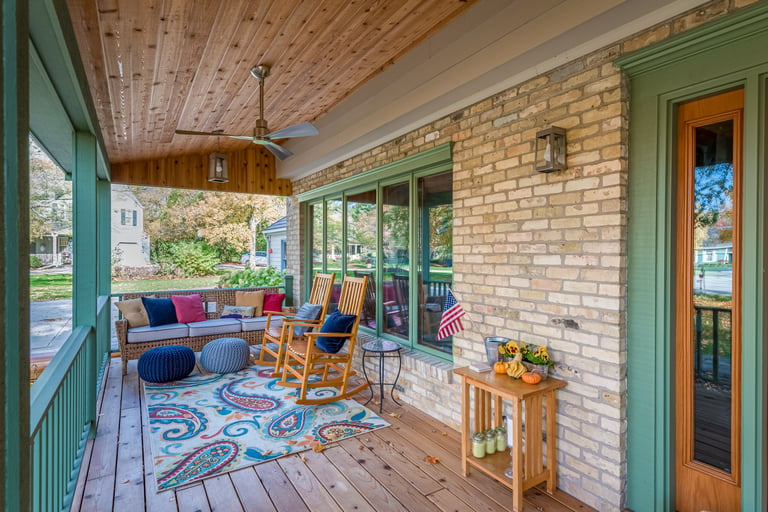 Hire a Design-Build Firm You Can Trust for Your Home Remodel
If you're wondering if a whole home remodel can truly give your family the room you need, the first step is consulting with an experienced design-build team. A knowledgeable team can help you re-imagine a customized layout and design that will work best for your family.
At Wade Design & Construction, we focus on your specific goals to create a completely custom home design. How? We prioritize collaboration from the beginning; learning about your home's challenges and working with you to come to your perfect whole home remodel design. To learn more about our process and what we can do for your Southeastern Wisconsin home, contact us to schedule a consultation.