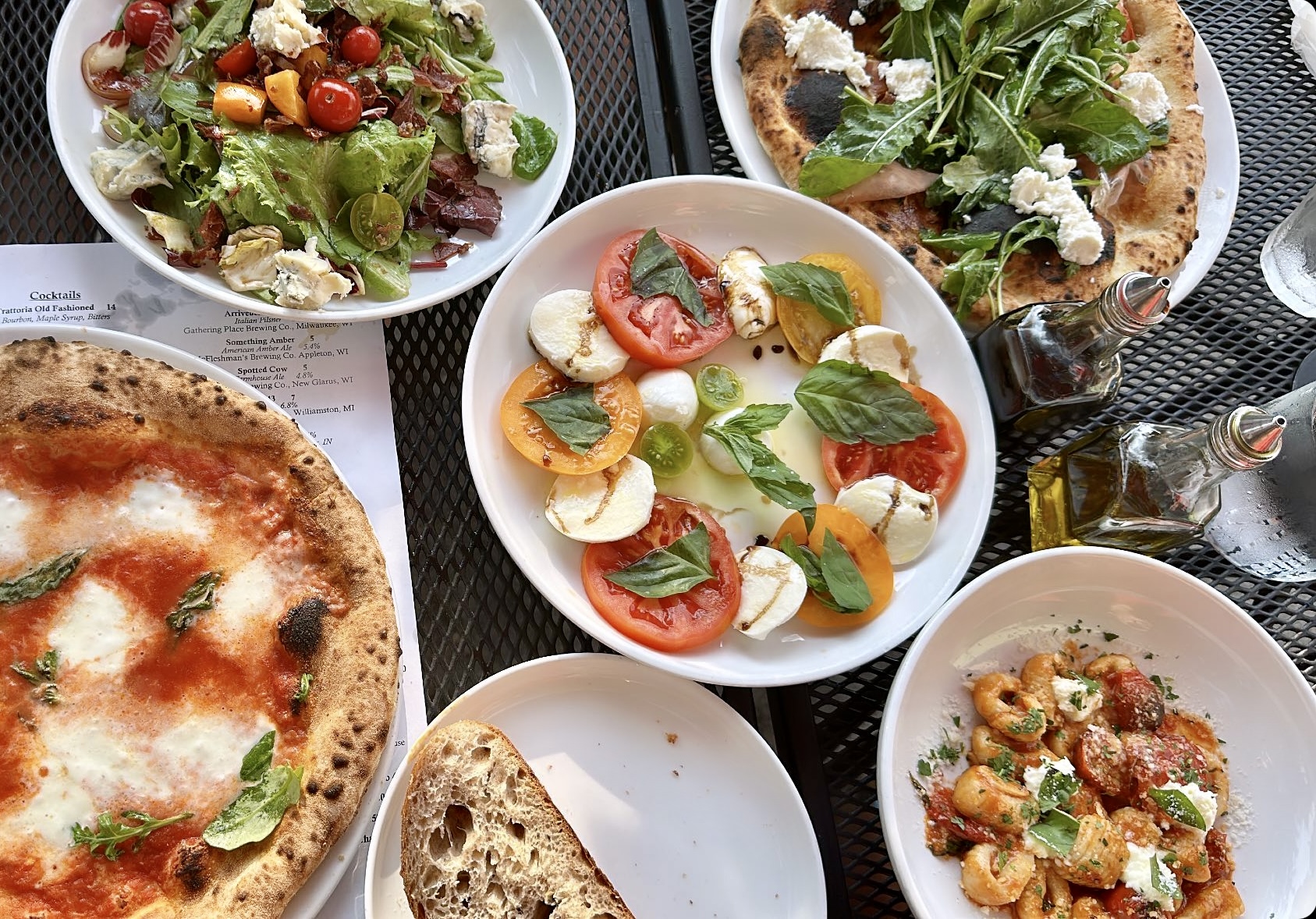 These are the Top Restaurants in Milwaukee's North Shore
Explore some cherished dining destinations in Milwaukee's North Shore area as the Wade Design team shares each member's personal favorites. From cozy pizzerias to charming tapas spots, these restaurants hold a special place in our hearts. Keep reading to dive into what makes each of them stand out:

Brandywine in Cedarburg is the standout favorite for Mike among our team's go-to dining spots. Situated in the heart of Cedarburg, this upscale and homey restaurant provides an inviting ambiance and amazing food. Brandywine's exceptional culinary selection includes a diverse menu, featuring everything from succulent steaks to innovative cocktails and consistently delivers a memorable dining experience. The restaurant's skilled staff and attentive service only add to the charm, making Brandywine in Cedarburg a top choice for Mike and a beloved favorite within our team's restaurant selections.

Among our team's favorite dining spots, Zach's top choice is Cafe 1505 in Mequon. He enjoys going there for lunch to grab a satisfying and healthy meal for the same price as what McDonald's would be, often opting for their coleslaw, Apple Berry pie, and the Chicken Cobb Club sandwich, which are his personal favorites. Cafe 1505's commitment to serving quality food at reasonable prices makes it a top pick for Zach and the rest of our team, offering a delightful dining experience for all. Plus, their pancakes are among the best that we have ever had at a restaurant.

The Copper Dock in Hubertus takes the crown as Jimmy's top pick among our team's favorite dining spots. What makes this restaurant truly special is that it's not just Jimmy's favorite; it's also his wife Sandi's preferred dining destination. Beyond its close proximity to their home, The Copper Dock boasts a delicious menu, a pleasant atmosphere, and breathtaking views of the lake that add to the dining experience. The sunsets here are nothing short of spectacular. Plus, Jimmy is friends with the owners, which adds a fun touch to the overall experience for him. His go-to dishes, like the delicious crab legs and the mouthwatering prime rib, highlight the restaurant's culinary excellence. The Copper Dock provides an all-around fantastic dining experience that Jimmy and his wife cherish, making it their top choice for an evening out.

Among our team's cherished dining spots, Union House in Cedarburg is Emma's top choice. This quaint and charming restaurant, set in a historic building, provides a delightful atmosphere that's both cozy and inviting. What sets Union House apart is its delectable tapas menu – a treasure trove of mouthwatering dishes that consistently impress. The Shishito Peppers, Burrata Salad, and Burger Sliders deserve a special shout out for being delicious. From the delightful flavors of the food to the creative cocktails, Union House knows how to satisfy every palate.

Cody's top culinary choice among our team's preferred dining destinations is the Mequon Public Market, a delightful food hall that offers a diverse array of options. One of his favorites is Screaming Tuna, which not only serves delectable sushi but also offers ramen that hits the spot. For a hearty and satisfying meal, Cody loves indulging in the juicy burgers and craft beers at Good City Brewing, not to mention their unforgettable curry fries. And when it's time to satisfy a sweet tooth, Purple Door Ice Cream is always a beloved go-to, offering a variety of delicious and innovative ice cream flavors. With a menu that caters to diverse cravings and a convivial atmosphere, the Mequon Public Market is Cody's top pick and a cherished favorite among our team.
Kristin - Il Ritrovo (Sheboygan)

Although this one is a bit north of Milwaukee's North Shore, it's so good we had to include it. At the top of Kristin's list is Il Ritrovo, a restaurant in Sheboygan that never fails to impress. This cozy Italian eatery offers an inviting ambiance that sets the stage for an exceptional dining experience. Kristin's favorites, like the exquisite Old Fashioned cocktail and the mouthwatering Fritto Misto di Mare (complete with a hint of lemony goodness), highlight the culinary excellence that Il Ritrovo is known for. The harmonious blend of traditional flavors and modern flair creates a memorable experience, making Il Ritrovo the top choice for Kristin and a beloved favorite within our team's roster of preferred dining destinations.

For Emily, the Chocolate Factory in Cedarburg is not just a favorite; it's a cherished, nostalgic retreat that has been a constant in her life. This charming and cute establishment, with its delightful, old-fashioned allure, has a special place in her heart. Its nostalgic charm and the fun of indulging in their delicious ice cream and sandwiches combine to create a truly heartwarming experience. Emily's go-to meal at the Chocolate Factory is a ham and cheese sandwich followed by Blue Moon ice cream for dessert.
Seth - Tomaso's (Cedarburg)

Seth's top choice among our team's favorite dining destinations is undoubtedly Tomaso's, a cozy pizzeria nestled in the heart of Cedarburg. As you step into this inviting eatery, you'll instantly feel at home thanks to the warm and relaxed ambiance. Tomaso's is all about the pizza, and it's easy to see why. Their artisanal approach and commitment to using locally sourced ingredients result in truly delectable pies. The scent of bubbling cheese and perfectly baked crusts wafts through the air, creating a tantalizing experience every time.

For Cole, Libby Montana Bar & Grill in Mequon is a favored dining spot. Their menu consists of tasty burgers and delicious fries, and it's conveniently close to Cole's home. The satisfying menu and fun ambiance at Libby Montana makes it a top pick for Cole, offering a dependable and enjoyable dining experience.

In Milwaukee's Third Ward, Shake Shack is Brayden's top choice among our team's favorite spots to grab a bite. Brayden simply loves a good burger, and Shake Shack delivers just that. Their classic yet delicious menu, with fresh ingredients and a relaxed atmosphere, makes it the ideal spot for satisfying a burger craving.
Ready to get started on a project in your home? Give us a call today at (262) 512-1799 to schedule your initial meeting with our design team.
Post Tags: